Bio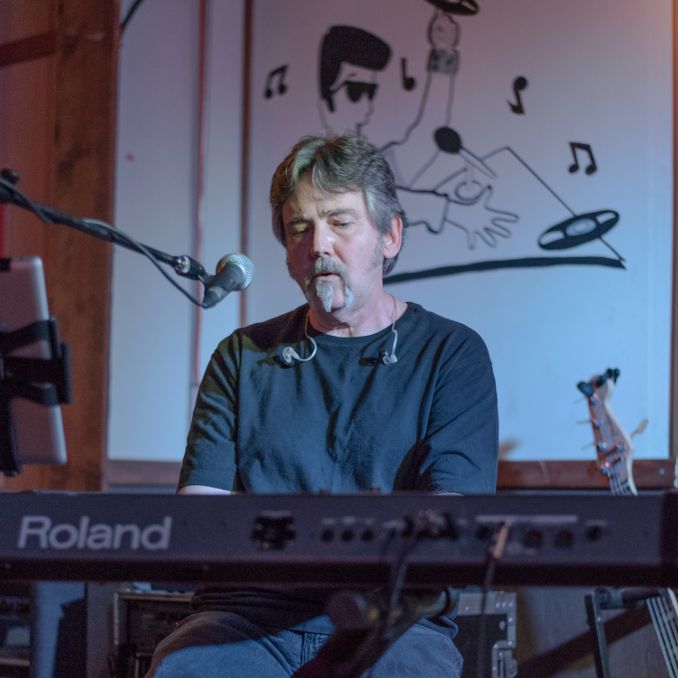 A Lifetime of Music
Stevie Eyer is a keyboardist, singer, arranger from Central Ohio.  He regularly performs as a solo artist where he arranges and plays popular favorites & original music arranged for piano and vocals with his distinctive blend of rock, folk, country, jazz, soul, and R&B styles.  Stevie can also be seen performing with other artists.
He has been influenced by some of the world's most incredible music of our time while living in and around cities like Philadelphia, Cleveland, Detroit, and Toledo.  Growing up listening to everything from Beethoven to Belafonte, Motown to Rock & Roll,  Big Band to Jazz, Folk music to Techno-Pop, The Beatles to Blue-eyed Soul, Eagles to ELP, Deep Purple to Sly & Family Stone, Stevie has a wide appreciation for many genres of music and this melting pot of styles is evident in his playing style and playlists.
Stevie started playing piano at age 6 and took up drums at age 10.  He performed in numerous orchestra, band, and musical theater productions throughout his school years.  Stevie has been performing solo and with bands since age 16, forming bands like Miniature Buzzurd (1987 w Danny O, Scott Shaull, Dave Foreman), Tongue n' Groove , and The Buzzurd Blues Project.  In the 1990s, Stevie had the privilege of recording and performing with professional musicians in bands such as Edwin Dare (Jeff Kollman, Kevin Chown, Bryce Barnes, Tommy Kollman) and The Mark Mikel Hallucination (Mark Mikel, Dave Murnen), among others.  In 1998, Stevie was a founding member and the original keyboardist of Findlay Ohio's perennial favorite Tongue n' Groove (Scott Shaull, Chip McClurkin, Tony Cole, Adam Nation, Holly McConnell, Dave Foreman, Dr. Ike, & others), with whom he performed until April 2010.  In 2014, he joined former TnG bandmate Dr. Ike to perform in the festival powerhouse band Big Red Deluxe.   In 2016, Stevie and long-time friend Danny O formed a blues-rock side project called The Buzzurd Blues Project (Danny O, Jerry Natal, Ron Wright).  Stevie also performs as an acoustic Duo with long-time bandmate and friend Scott Shaull.  
In 2019, Stevie relocated to Central Ohio where he performs regularly as a Solo Artist and also with other musicians.
Stevie Eyer has spent a Lifetime in Music and would love to share his music with you!